Grove Park & South Chiswick
STOP PRESS:
GROVE PARK FINES TOPPED £13 MILLIONS LAST YEAR
Chiswick's Local Web site (chiswickw4.com)
LATEST 'CONSULTATIONS'
THE LATEST CONSULTATION ON BURLINGTON LANE AND STAVELY ROAD CLOSED 7TH SEPT 2022 & SHOWED RESIDENTS REJECTED COUNCIL'S PLANS. READ HERE THE DECISIONS THE COUNCIL MADE AGAINST RESIDENTS WISHES:
Staveley Road and Burlington Lane – trial access restrictions – London Borough of Hounslow – Citizen Space
************
This is the area mainly on the Riverside of Chiswick and is to the south of the A4 and east of the A316.
Grove Park and the wider South Chiswick area has been carved up by the London Borough of Hounslow in its poorly thought through implementation of a Low Traffic Neighbourhood amid huge opposition from the people who live there.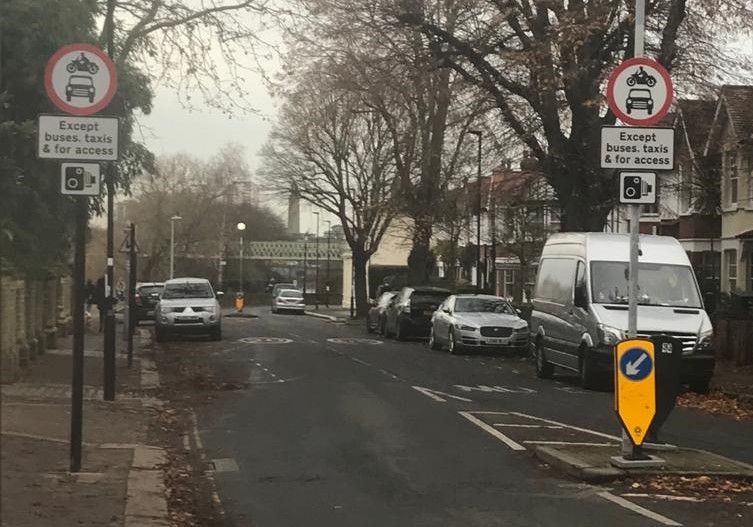 As in other areas Residents and Ward Councillors have not been consulted or simply ignored. The Council is causing anger and frustration with neighbour being pitted against neighbour.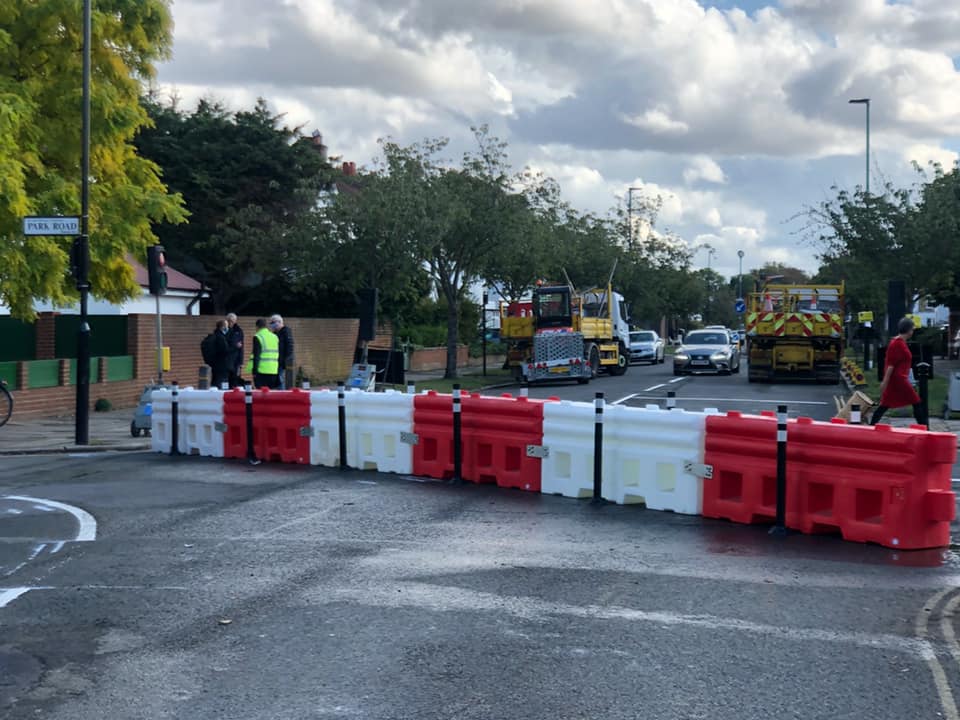 There are a number of schemes that were trialled and caused great confusion:
Dan Mason Drive
Harvard Hill
The Staveley Road/Park Road barrier
Hartington Road – through route
Thames Road – access only
Burlington Lane
It is a minefield and splits the area. It is not clear who these schemes are planned to benefit. There is already already high bicycle ownership and poor public transport; we have already seen a reduction in the bus service in recent years, disproportionately disadvantaging older residents who cannot reach the doctors and services of central Chiswick. Journey times are getting longer and congestion and pollution on peripheral roads is going up.
Residents remain confused and concerned. Carers have not been getting to their patients with some dire consequences. Emergency Services have told the Council they don't support the Staveley/Park Rd Barrier. Who can drive where and when is causing hard-working and well-meaning people to get increasingly frustrated.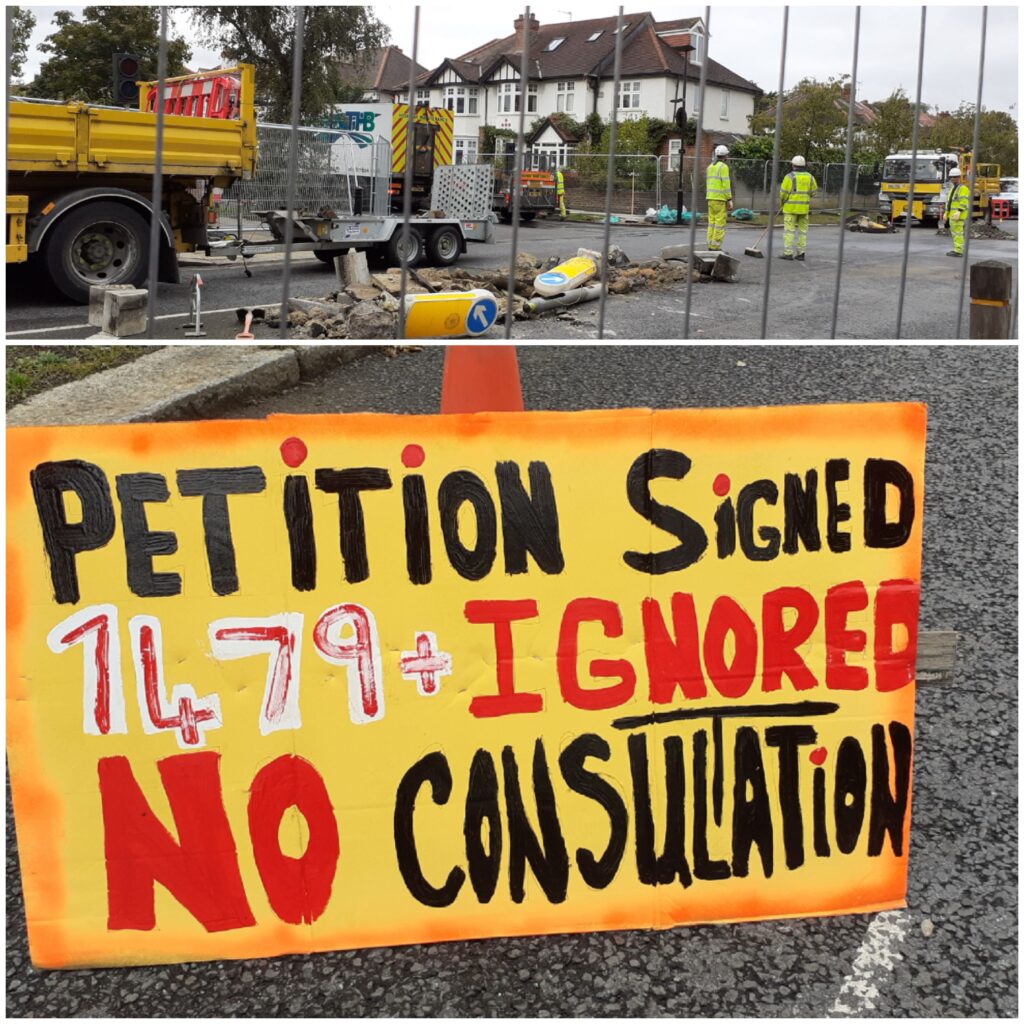 The notorious "Access only" Thames Road closure, as was the case with the changes to Turnham Green Terrace and Devonshire Road, needs to be explained. Access only means you cannot drive through without stopping: you must stop, for a length of time that has not been disclosed. It appears that, according to Council Officers and Cabinet Members, as long as you "access" someone, something or somewhere you can travel into Thames Road and out the other end of it. So, if you do that and get a PCN, make sure you challenge it.
Local people now regard Grove Park as a no-go area, avoiding it at all costs, which is harming local businesses and local harmony.
What Grove Park and Chiswick residents want is a scheme that stops the divisions, heals the community and works for all.
HOUNSLOW HAD A 'HAVE YOUR SAY' CONSULTATION WHICH CLOSED ON 18TH JUNE, 2021. THIS GAVE PEOPLE THE OPPORTUNITY TO REJECT (OR SUPPORT) THE CHANGES TO HARTINGTON ROAD, STRAND ON THE GREEN AND SCHOOL STREETS – SEE STREETSPACE FEEDBACK FROM LBH's LINK HERE: DESPITE MASSIVE REJECTIONS THEY WENT AHEAD
Streetspace Feedback 2021 – London Borough of Hounslow – Citizen Space
88% OF RESPONDENTS REJECTED THE EXISTING STREET CLOSURES, YET HOUNSLOW COUNCIL DIVIDED OUR COMMUNITY STILL FURTHER BY TOTALLY BLOCKING RESIDENTS EAST OF THE A316 FROM ACCESSING GROVE PARK OTHER THAN VIA THE A4 MON TO SAT 8-7PM, THEREBY CUTTING RESIDENTS OFF FROM THEIR DOCTORS, DENTISTS, VETS, PARKS, ALLOTMENTS, FRIENDS AND FAMILY.
Read about it here and the demonstration against these measures : Chiswick's Local Web site (chiswickw4.com)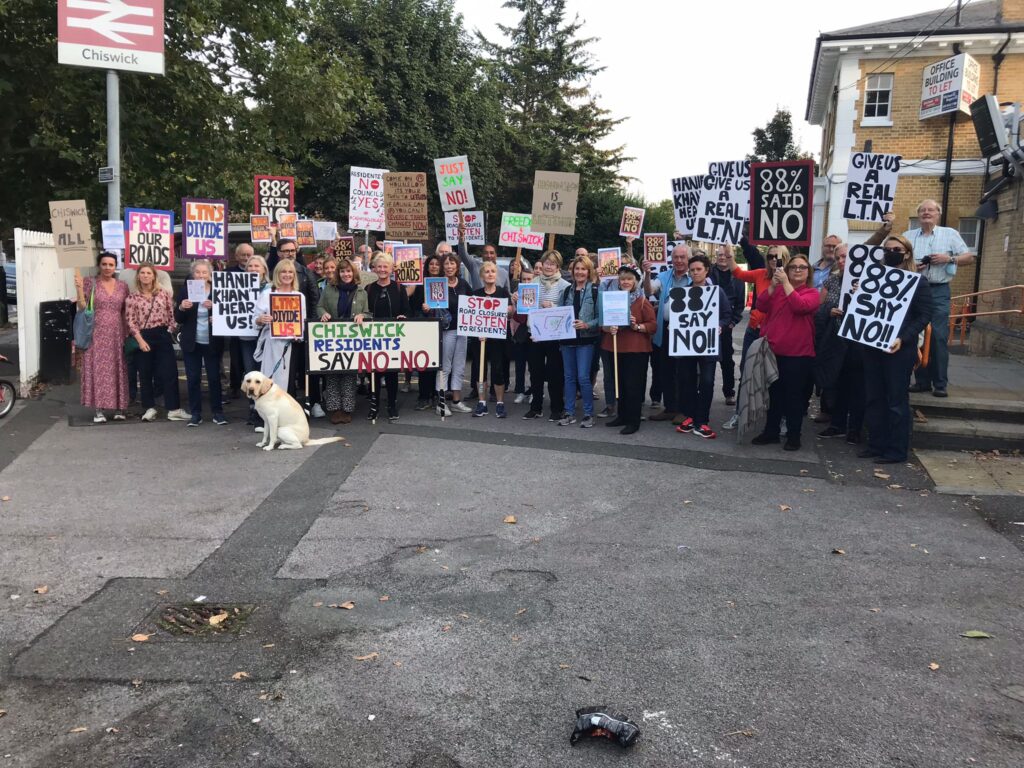 Some of the many protesters who went to Hounslow House in September 2021 to lobby Cabinet members who introduced further street closures
THIS A316 EXCLUSION WAS HALTED PENDING A CALL-IN BY LOCAL WARD COUNCILLORS, AND HOUNSLOW BACKED DOWN.
HOWEVER, TRUE TO FORM HOUNSLOW REJECTED THE OTHER REASONS FOR THE CALL-IN BY LOCAL WARD COUNCILLORS AND CLOSED EVEN MORE ROADS .
HOUNSLOW COUNCILLORS, NONE OF WHOM LIVE IN OR KNOW CHISWICK, ARE PRESSING AHEAD WITH THEIR CHANGES.
IN THEIR PRESS RELEASE, THEY INSULTED RESIDENTS STILL FURTHER BY SPOUTING THEIR 'WE ARE LISTENING' MESSAGE.
WHAT DID HANIF KHAN, THE THEN COUNCILLOR RESPONSIBLE FOR GROVE PARK STREET CLOSURES HAVE TO SAY ABOUT THESE MEASURES?
Ex Councillor Hanif Khan, Cabinet Member for Transport and One Hounslow, said, "I'm pleased the review of our Streetspace trials have been through a scrutiny process and have now been agreed by Cabinet. This ensures our decisions are being discussed and tested –and rightly so. We can now move forward with confidence with a scheme that balances the convenience of local residents and businesses against the need to create safer and more attractive spaces for walking and cycling and to reduce through traffic on residential roads.
"We recognise that many residents felt very strongly about Hounslow's Streetspace trials. That's why it has been important for us to listen, and to show we were listening. We have done that systematically and carefully, with independent reviews and around 10,000 individuals taking part in consultation in a range of accessible ways."
CURRAN, KHAN, DUNNE & LAMBERT – THE FOUR COUNCILLORS RESPONSIBLE FOR THE CARVE UP OF CHISWICK – MADE A MOCKERY OF DEMOCRACY, AND THE NEW LEADER RAJAWAT APPEARS TO BE FOLLOWING IN THEIR FOOTSTEPS.
See below links to various web pages relating to Grove Park Streetspace measures
Chiswick's Local Web site (chiswickw4.com) Councillor accuses borough of targeting Chiswick to cover budget shortfall – £2MILLION IN FINES ALREADY –
South Chiswick Liveable Neighbourhood | South Chiswick Liveable Neighbourhood | London Borough of Hounslow
There was a Streetspace consultation going on earlier in the year and South Chiswick was included . That consultation process ended on January 31st and we were advised the results would be shared Feb 2021. Streetspace Review | Hounslow's Streetspace | London Borough of Hounslow
---
Please also add your voice to this petition about Grove Park and South Chiswick
https://www.change.org/p/hounslow-council-south-chiswick-traffic-measures
---