The top end of Devonshire Road has been one-way north to south for many years. It is the second most important shopping road for independent shops in Chiswick. Devonshire Road is a street of 34 small independent retailers and service businesses including a pet shop, two beauty/nail bars, two art galleries, a rug shop, two hairdressers, acupuncture, orthopaedic and exercise clinics, a glazier, two dry cleaners, a taxi business, an antiques shop, a clothes repair shop and 11 cafes/restaurants.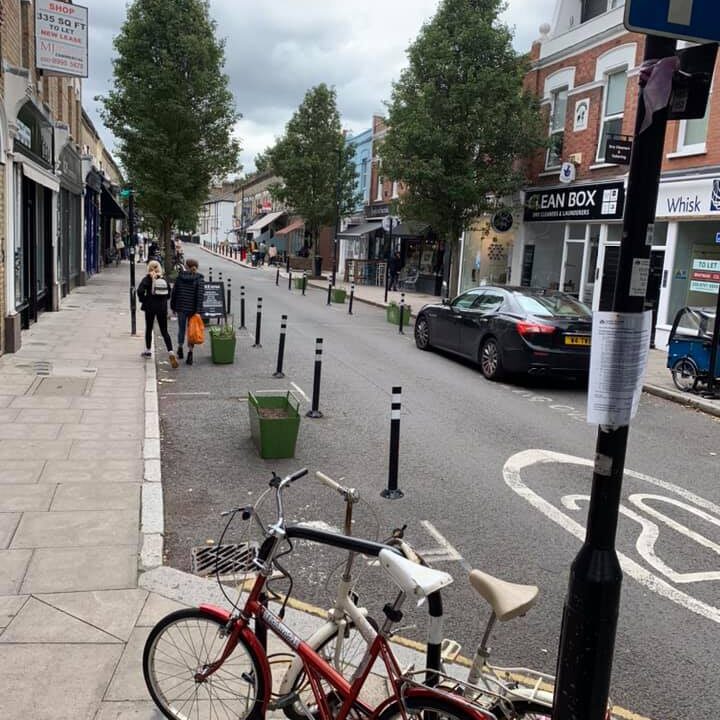 WHAT HAPPENED IN 2020?
By the very nature of these types of shops footfall has never been crowded and road traffic has never been high, and because the items sold by a number of the shops are heavy or bulky, the 30 min free parking which it used to have was particularly popular as is reflected in business takings.
When parking was removed and through traffic was stopped by Hounslow Council in late summer 2020, footfall disappeared and traders takings sank, particularly for non-food outlets.
As the road only goes to/from residents' homes, their journeys became much longer; their essential detours added further to the traffic and pollution in Chiswick and created cut-throughs in other residential roads, adding to pollution. There was no social distancing reason why it should have been closed to this local traffic or for the parking to be removed. This has been borne out by a damning Ombudsman's report
– read all about it here on Chiswick's Local Web site (chiswickw4.com)
We understand that the real reasons for the closure, despite opposition from 76% of respondents to the survey was:
To lessen any complication for the design of the C9 cycle route on Chiswick High Road arising from left and right turns
The desire of a tiny minority to turn it into a pedestrianised and cycling food court environment which is completely inappropriate and shows no regard for the 23 non-food businesses here
But what did traders and residents want after that full year of closure?
The Chiswick Shops Task Force found that whilst the majority of traders opposed the road closure, there was a high level of support for compromise – read about it here Chiswick's Local Web site (chiswickw4.com). However, the nonsensical road access hours foisted upon Devonshire Rd by LBH which currently operates satisfies no-one and continues to be challenged by residents and traders alike. Is this yet more trickery by Hounslow Council to bring in road fines?
---
For further information as to the "consultation" process please click here
---
What's happening in Devonshire Rd now?
On June 22nd 2021 Hounslow Council announced limited re-opening of Devonshire Road during daytime hours only (8am to 5pm). No credible explanation has been given by the council to our local councillors shopkeepers or residents on why it is open to traffic for such a short time.
Read about it here:
www.hounslow.gov.uk/streetspace-review
Chiswick's Local Web site (chiswickw4.com)